The state of Connecticut is no stranger to frequent snow storms and icy conditions. Knowing how to choose a reliable snow removal company for your property is as important as owning a shovel. No two snow removal companies are alike. Some companies cater to smaller residential properties while some are experts in commercial snow removal. Regardless of whether your property is half an acre large or 100, the basics of how to choose a reliable snow removal company remain the same. Here are 6 useful tips for choosing a reliable snow removal company in Connecticut: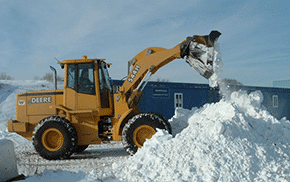 1. Know the Snow Removal Company's Reputation & Experience
It is important to find out how long a company has been operating. A reliable snow removal company has been in business for years, not days. Choose a company that has experience in handling properties similar to yours as you don\'92t want to be the company's largest and most unwieldy client. Go with a company that knows the ins and outs of handling properties similar to yours.
2. Does the Contractor Perform the Work Themselves or Subcontract?
It is important to ask if the company will perform all of the services themselves, partially, or subcontract.  A lot of companies only act as 'middle men' and therefore do not perform the work themselves.   They rely on subcontractors to perform the services.  This is not necessarily bad, but you should determine before signing a contract who will be doing the work and dif feel comfortable with the subcontractors they have in place.
3. Know the Snow Removal Company's Equipment
The equipment a snow removal company uses says a lot about the company itself. Professional snow removal equipment should be well cared for and in good condition. Be sure to ask about their plows and tools, especially for larger jobs. Find out if the company brings extra parts with them in case a repair is necessary.
4. Know the Snow Removal Company's Coverage
Snow removal coverage varies from contract to contract. Be sure to know what is covered by the snow removal company you choose. Some snow removal companies, for example, do not clear and treat steps or walks in their standard contracts, but may be willing to include them. A good snow removal company will be willing to work with you on your requests.
5. Know the Snow Removal Company's Contract
A good snow removal contract will be tailor-made specifically for your property\'92s needs. Some snow removal contracts charge per visit while others are good for an entire season. Depending upon your property, you may find that one type of contract may work far better for your needs than the other. You should discuss the benefits of each and determine which fits your best needs.
6. Know the Snow Removal Company's Services
Experienced contractors offer their clients a wide selection of services. Professional snow removal companies should offer pre-treating for icy conditions to off-site snow removal and everything in between. Even if you won't be needing these services, be sure that the company offers them (in case you need them in the future).
Key Takeaway
Does the snow removal company provide all of the services or none? A lot of companies only middle the work and hire subcontractors to provide the services. There are benefits to each. A company who provides services has more control and typically provides better customer services with lower prices. A company who middles and subcontracts their work typically has more resources available. These companies can often have the challenges of communication as the client's requests and expectations are often not communicated correctly. Ask the contractor who will be in charge of the site, what portion of the equipment on site will be supplied by others.
With experience and equipment that can handle projects of any size, our team understands that timing during New England winters is crucial to keeping your business safe and accesible. Talk to us about your project and we will work with you to schedule a service plan that will match both your needs and budget.