Erosion Control
Talk to us about your Project
Erosion Overview
Regulations and Materials
Due to the most recent NPDES Phase II Regulations, the Storm Water Pollution Protection Plan (SWPPP), and a host of other regulations, Erosion Control and Storm Water Management are higher priorities than ever before.
Regardless of the method or application – hydraulically applied, rolled, or other products available – All Seasons Landscaping is equipped to get the job done right and on time. We have extensive experience in erosion control measures, and are extremely knowledgeable of Best Management Practices (BMPs) and materials needed to meet them. As new products emerge, we continue to train our team to stay on the cutting edge of erosion control applications.
Landfills
Experience and Solutions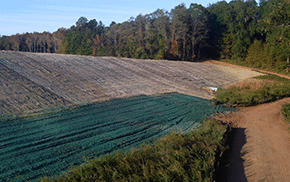 Landfill Erosion Control is a huge undertaking, but as the leader in the field in the state of the Connecticut, All Seasons Landscaping can complete most jobs in less than one-day. Whether your concern is "daily cover" or "final cover", our methods of Landfill Erosion Control can drastically increase the lifespan of your landfill. Our Hydroseed covers stay more secure than traditional soil covers. It also helps to repel vermin, control dust and odor, prevent fire hazards and blowing litter, and so much more.