Connecticut erosion control guidelines as well as those by the U.S. EPA encourage the use erosion control blankets to prevent pollution from storm water run-off and to help keep soil in place on steep grades. In fact, by 2014, all construction projects that disturb 10 or more acres of land will be required to submit an erosion control plan in writing to obtain the necessary permits. Erosion control blankets are one solution to this problem. Such devices are available in a variety of forms, both temporary and permanent, and can benefit a number of different types of job sites in a variety of industries.
Types of Erosion Control Blankets
There are 14 classes of erosion control blankets, each designed for specific uses and job sites. Within each broad category, there are different weights, designed for different grades and to withstand different stress levels.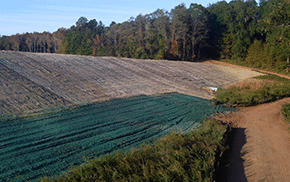 Netting — Made of natural fiber mesh, this type of temporary CT erosion control is useful for landscapers and helps to keep mulch and seed in place for a short period of time, such as until the plants are mature enough to offer their own erosion control. This netting also helps to keep the ground at a consistent temperature and moisture level, helping seeds to germinate and develop more quickly.
Biodegradable erosion control blanket — This type of blanket is made from natural materials and lasts from one to five years. This product is ideal for temporary job sites, such as new commercial construction sites, that will be completed during the one to five-year time frame.
Permanent turf reinforcement mat — Some job sites, such as highway projects, require more permanent erosion control. For instance, DOT erosion control in Connecticut requires that all DOT projects in the state use matting for stabilization to minimize run off on exposed slopes during the winter months.
Permanent erosion control blanket — This type of permanent erosion control is useful for those working in CT landscape construction. It can be used around ponds to keep the water from wearing down the sides and destroying vegetation.
All types of blankets are non-toxic both to plants and humans while requiring little maintenance.
Whether you work in landscaping, new home or commercial building construction or road construction, erosion control blankets are an effective solution to a number of soil problems. They can help your company meet the new EPA regulations and concentrate on getting your job done.
Contact All Seasons Landscaping
If you are in need of soil erosion control in CT contact All Seasons Landscaping. We have decades of proven experience with several types of erosion control methods. To learn more visit our website here or click the photograph below to submit your soil erosion project.